Testimonials & Customer Deliveries
Mrs. Low
Mrs. Low decided to treat herself to a new made-to-measure Rise & Recline chair and adjustable bed, which she was able to try in the comfort of her own home. we assessed her needs and requirements, advised her of the best options for her and delivered them for her to enjoy.
Always a pleasure hearing a positive experience with us 🥰
Mr. Jenkins
After struggling with his manual wheelchair, we advised Mr Jenkins to try one of our pre-owned Quickie Salsa Powerchairs. We are pleased to hear that Mr Jenkins is out and about on his new chair, which has given him the independence he was missing.
Mrs. Gibbons
Great to hear Mrs Gibbons!
Mr. & Mrs. Langman
Mr & Mrs Langman taking delivery of their new Rise & Recline chairs 🤩🥰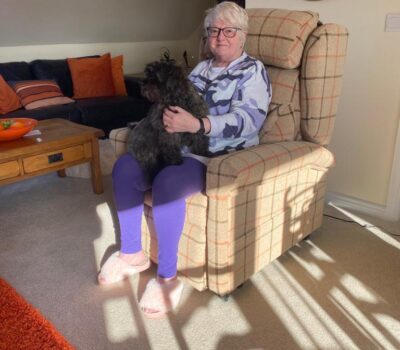 Mrs. Edward
Lovely to see Mrs Edward's and Titch enjoying their new chair 🥰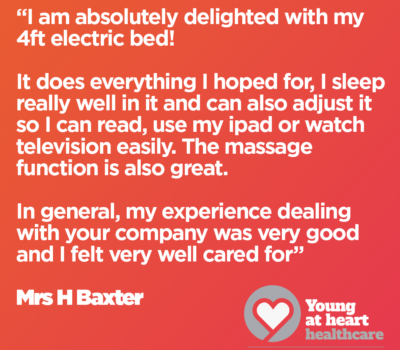 Mrs. Baxter
What a great review from Mrs Baxter 🥰
Enhance the life you live today, just like these happy customers did!❣️😁
Mrs. Brown
Mrs Brown chose a fabulous deep red fabric for her bespoke Rise & Recline chair, white glove delivered by our in house team.
Always satisfied to see the end result 😯🤩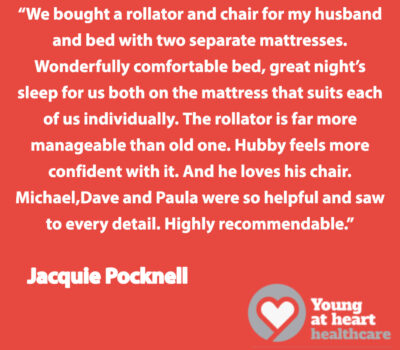 Jacquie
Thank you for such a great review Jacquie!! We are so please you have had this positive experience with us! 🥰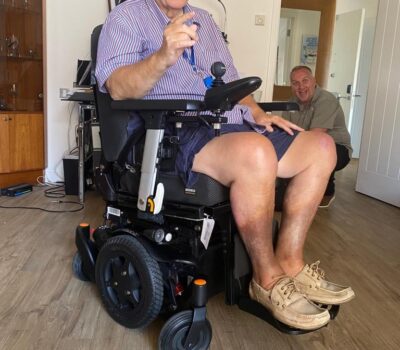 Mr. Harris
"I love my new Powerchair" said Mr Harris, when our lifestyle buddy David handed it over to him. (David with the happy face in the corner). 😊 ❤
Mr. Belcher
Lovely review from Mr Belcher 🥰
© Young at Heart Healthcare Ltd. All rights reserved.